Barbary Coast Zine Making Party - This Next Friday!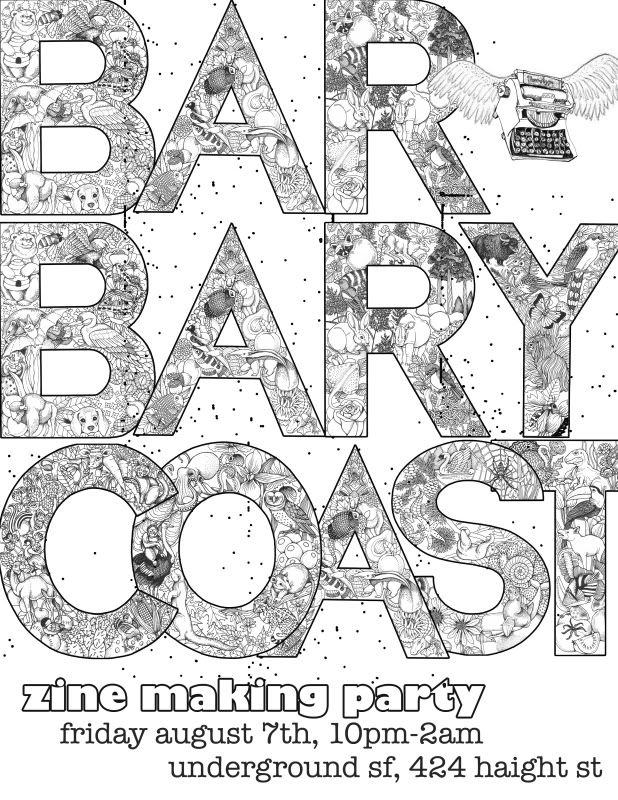 A sure sign that your festival is headed in the right direction is when independent events start popping up of their own accord all around you, like green shoots in the shade of a mighty oak... or something like that! Anyways, we were delighted to hear about the
Barbary Coast Zine Making Party
, happening
this
next Friday, 8/7 10pm - 2am, at
Underground SF
!
Barbary Coast
is a mash up of a social salon, arts& crafts night, and dance party that takes place on the first Friday of every month, put on by record nerds Awww Damn, Marco Vega, and DJ Andrew Rules... they play all sorts of stuff, from death metal to sock hop. This week they will have pens, paper, old magazines, gluesticks, scissors, and even a disposable camera photo booth to facilitate the creation of pages for a collaborative zine which they will collect and release for Zine Fest! The flyer you see above is actually the cover of a cool mini-zine which they made to promote the show, its pretty sweet, look for it around town. See you there!